'A total perfectionist': the understated, underrated photography of Evelyn Hofer | Photography
6 min read
In 1982, on the occasion of an Evelyn Hofer exhibition at the Witkin Gallery in Manhattan, Hilton Kramer, art critic of the New York Times, asked: "Is it possible in this age of publicity for a photographer to be both famous and obscure at the same time?" In an age of information overload, that remains, to a degree, a pertinent question.
Hofer, who died aged 87 in 2009, is one of those quiet but accomplished photographers whose importance has taken considerable time to accrue. When Kramer wrote his review, championing her as "one of the most illustrious of living photographers", Hofer was 60, but, as Kramer pointed out, not one of her works featured in the Museum of Modern Art's extensive permanent photography collection. "She seems not even to have been heard of," he wrote, sounding personally affronted.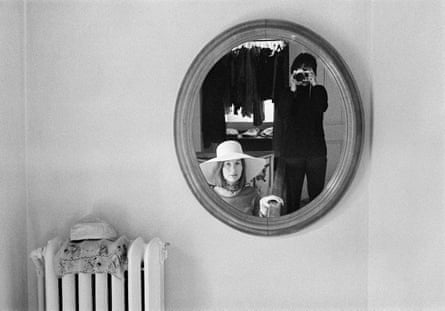 Much has changed, though slowly, in the interim. Hofer's poised and attentive colour portraits now feature in museum collections worldwide, and in recent years there have been retrospectives devoted to her work in Switzerland, Ireland and the Netherlands. Yet while photographers such as Thomas Struth, Rineke Dijkstra and Alec Soth have acknowledged her influence, Hofer's work has not inspired a wave of popular attention like the one that attended the posthumous reappraisal of her male contemporary and fellow colour pioneer Saul Leiter.
The reasons for this are complex, and not just to do with Hofer being overlooked by a male-dominated photography culture. In her lifetime she was best known for a series of evocative travel books, published between 1959 and 1967 in collaboration with well-known writers: Mary McCarthy (The Stones of Florence); VS Pritchett (London Perceived; New York Proclaimed; Dublin: A Portrait) and Jan Morris (The Presence of Spain). Clare Grafik, co-curator of a long-overdue British retrospective of Hofer's work, which opens at the Photographers' Gallery, London, later this month, thinks that the perceived commerciality of these commissions may have initially worked against Hofer being taken seriously as an artist.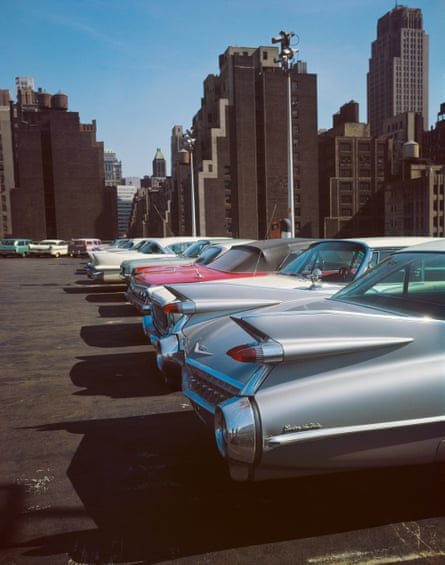 "Her colour work, particularly her portraits of people in their urban settings, is so extraordinary that it's difficult to understand why she is not more well known and appreciated," Grafik says. "Through those books Hofer's work undoubtedly reached a lot of people, [but] many readers perhaps did not take that much notice of the photographs other than as illustrations of the writing. In art circles there may have also been a latent snobbery towards her because she was seen as a commercial photographer, but working on the travel books is how she developed her own style."
The forthcoming exhibition makes clear that Hofer was a formally brilliant photographer of people, places, environments and objects. Looking at her colour portraits of ordinary people in 1960s Dublin and New York, it's difficult to think of any other photographer who so evoked the atmosphere of those cities while creating images that are so rigorous and richly hued. Her Dublin exudes a muted, melancholy atmosphere, while New York is vibrant with the suggestion of life and colour even in the stillness she imposes on her subjects.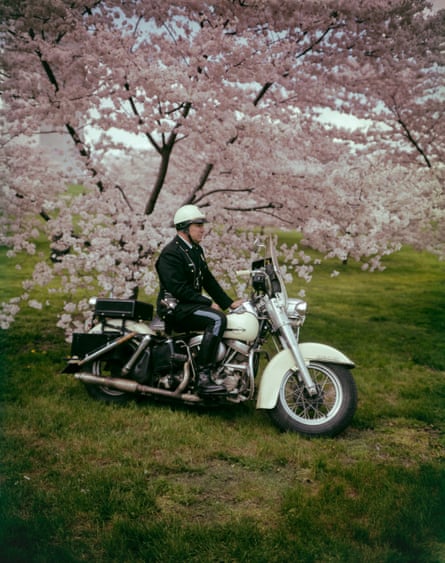 "Her images are incredibly subtle in every regard," says Grafik, "and there is a lack of possessiveness in her approach. You can sense the delicate balance in the relationship between her and her subjects."
Hofer photographed people individually or in small groups on the streets, using an unwieldy 4x5in (10x12cm) Linhof Technika view camera that required a degree of patience and engagement from both her and her subjects. "She was always studying the light," Andreas Pauly, her former assistant and executor of her estate, told the New York Times in 2010. "She had a little notebook and would write down when the light would be good, then she would come back at that time. It was rare she set up a camera and did something quickly." The results are the polar opposite of traditional street photography, being still, poised and deftly composed rather than frantic, snatched and fly-on-the-wall. In one memorable image she posed a tough-looking motorcycle cop beneath a blossoming cherry tree, making you wonder about the preceding conversation between the macho guy and the diminutive woman with the huge, cumbersome camera.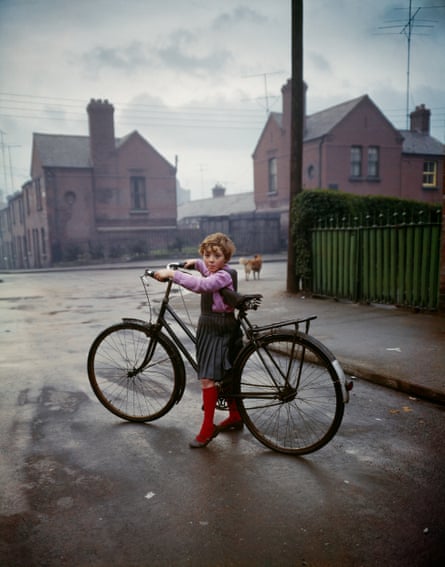 Grafik describes Hofer's style as "environmental portraiture", citing its stylistic resemblance to August Sander's more austere work in Weimar Germany. "There are whispers of Sander's style in her monochrome portrait of three gravediggers in Dublin, for instance, but Hofer photographs people in their settings in a way that doesn't reduce them to their function. There is often an interesting complicity between her and her subjects, as in her wonderful colour portrait of four Irish footballers standing in a row. There is a slight glint in their eyes, as if they know they are performing for her camera."
Like all Hofer's subjects, though, they are performing quietly, responding to her unassuming presence and precise instructions. Her photograph of a young girl in Dublin, standing astride an adult-sized bicycle, is both a portrait and a landscape. It is also a study in attentiveness: the smartly dressed subject bathed in sunlight and shadow on a street that is eerily empty – perhaps it was a Sunday – save for an uninterested dog in the background. The composition is echoed in Hofer's portrait of a young man posing cooly on a racing bike in a New York park, the towering Queensboro Bridge looming in the background. In both instances, the gaze of the photographer's subject is calmly quizzical.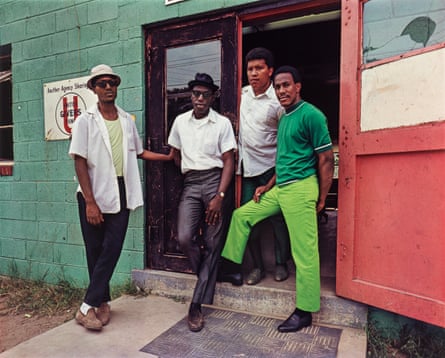 Born in Marburg, Germany in 1922, Hofer's early life was disrupted by the rise of nazism, her family fleeing to Geneva, Switzerland in 1933 when she was 11. She began her career with an apprenticeship at a Swiss portrait studio before taking private lessons from the influential teacher and photographer Hans Finsler, a member of the new objectivity movement. He taught her the theory and practice of photography, but also technical expertise, including the chemistry of print-making, a grounding that would underpin her later mastery of the complex dye transfer printing process that gave her colour images such rich, deep tones.
In 1946, Hofer settled in New York, having also lived in Spain and Mexico. There she began working for Harper's Bazaar under its celebrated art director Alexey Brodovitch, and befriended the artists Saul Steinberg and Richard Lindner, who, she said, "showed me how to look". Her still lifes artfully arranged objects echo the paintings of 17th-century Dutch masters. Grafik finds it revealing that Hofer's close friends were painters: "They were creating their own world, not relying, like photographers, on the outside world to come to them."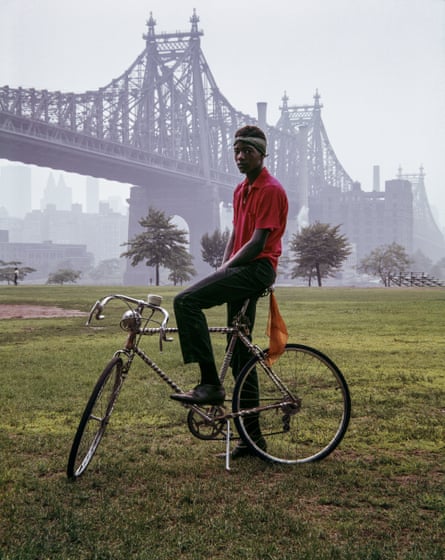 At some point in the mid-50s, Hofer met the writer Mary McCarthy, who asked her to provide the images for The Stones of Florence, a literary meditation on the Italian city's culture, art and history. So began perhaps the most creatively fertile decade of Hofer's working life, with a subsequent, more sustained collaboration with VS Pritchett producing atmospheric books on London, New York and Dublin. With hindsight, it's clear that Hofer's technical skill and aesthetic judgment elevated this work to the level of art photography.
She returned to editorial work in the late 60s, working for Time and Life magazines. In the 70s she shot several extended photo essays for the Sunday Times, including one on British prisons and another on life in Crossmaglen, a staunchly republican village in south Armagh, at the height of the Troubles.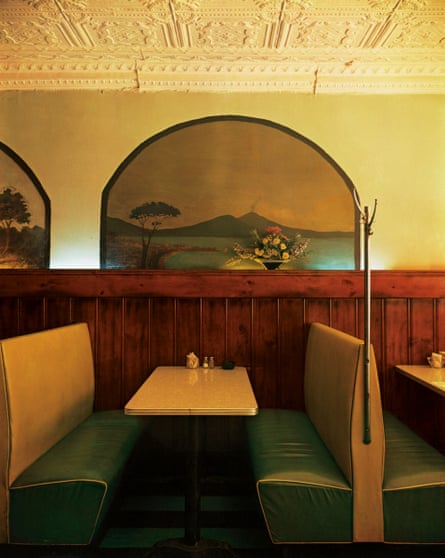 Throughout, Hofer remained an intensely private individual. Elisabeth Biondi, erstwhile visuals editor of the New Yorker, commissioned Hofer for several Vanity Fair pieces in the late 1980s, including one in which she photographed the interior of Andy Warhol's apartment after the artist's death. Biondi and Hofer became friends.
"We weren't close, but we got on," says Biondi, laughing. "Charm was not Evelyn's strong point. She had a German exactness that I recognised in myself, and she could be stubborn to the point of infuriating, but she was a total perfectionist. Her aesthetic reflected that: she was constantly seeking technical perfection alongside beauty, and to that end her photographs are calm and totally balanced compositionally. When you commissioned her, you knew she would deliver work to the highest standard."
Now and then, Biondi caught a glimpse of Hofer's life outside photography. "She lived alone in a building that had once been a kind of artist's colony in the West Village. She was very independent, and her apartment, like her life, was meticulously ordered. I know there was a relationship with someone in the past but she did not talk about it. One sensed that, to fall back on the old cliche, she was married to her work – so much so it would probably have been difficult to be her partner." Biondi pauses for a moment. "For Evelyn, the work was her life."