Artists respond to the land in Visual Arts Division exhibition
2 min read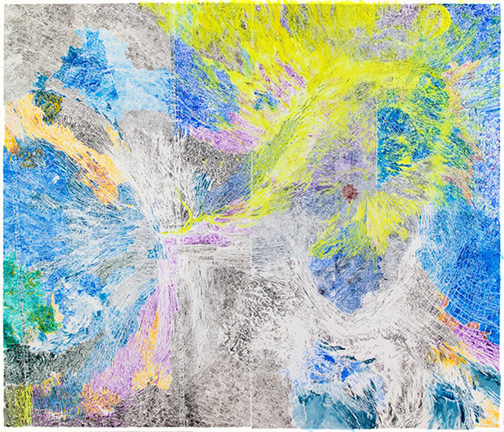 "Satellite and Sediment," the Department of Visible Arts' wintertime time period exhibition, characteristics drawings and paintings by 5 acclaimed contemporary artists who issue distinctions between human and normal devices.
The 5 are Athena LaTocha, Cynthia Lin, Beatrice Modisett, Barry Nemett and Sara Schneckloth. All but Schneckloth will be in attendance at the exhibition's opening reception, set for Thursday, Jan. 19, 4:30-6:30 p.m. in the Feigenbaum Centre for Visual Arts' Crowell and West galleries.
They will give transient gallery talks at 5 p.m. The function is totally free and open up to the public.
Manipulating satellite imagery, drone footage, collaged landscapes and foraged elements, the artists mingle close observation and lived knowledge, system and mother nature, realism and abstraction.
"Bringing us into their intimate discussions with nature, these artists encourage us to glance closely at our personal associations with the weather close to us, the sky over and the floor below," suggests Laini Nemett, associate professor of visible arts – portray and drawing, and the show's curator.
Alaskan-born LaTocha is a Hunkpapa Lakota and Ojibwe artist. She performs her ink and earth drawings in concert with the land, frequently commencing them on and with the ground itself, allowing the environment, rain, sand and soil direct the piece.
Lin, primarily based in Brooklyn, is an affiliate professor of painting and drawing at Invest in University. She reinterprets topographical information from NASA satellite imagery and magnified sections of pores and skin with invented colors and unpredictable technological processes. Combining printmaking, scratch-board, solvent transfers, and oil on mylar, her massive-scale works transfer from pores and hair follicles to lava flows and land boundaries.
Lin will give an Artist Converse Friday, Jan 20, 12:45 p.m., in Area 204. The party, which involves a catered lunch buffet, is co-sponsored by the departments of Visible Arts and Geosciences.
Modisett, centered in Queens, takes advantage of handmade charcoal and wooden ash from her residence in upstate New York in her monumental drawings of waves, wind and excessive weather, suggesting a point out between coalescing and collapse, forming and eroding.
Barry Nemett is professor emeritus of drawing and portray and previous chair of the Portray Section at Maryland Institute College of Artwork. His accordion guides mix several areas and climates, weaving intricate thickets and tree bark with expansive landscapes of patchwork fields, karsts and canyons across continents. He is the father of Laini Nemett.
Schneckloth, an associate professor in the School of Visible Art and Layout at the College of South Carolina, forages purely natural materials from New Mexico's San Juan Basin to produce pigments for her mixed media drawings. Centered on very low altitude drone footage, her loosely referential maps of the region's banded topography recommend geological formations and substantial useful resource extraction, as properly as considerably less-obvious divisions involving public and private lands.
The exhibition runs by way of March 10.