Hallmark's 'Countdown to Christmas' 2023 Movie Schedule Is Here
10 min read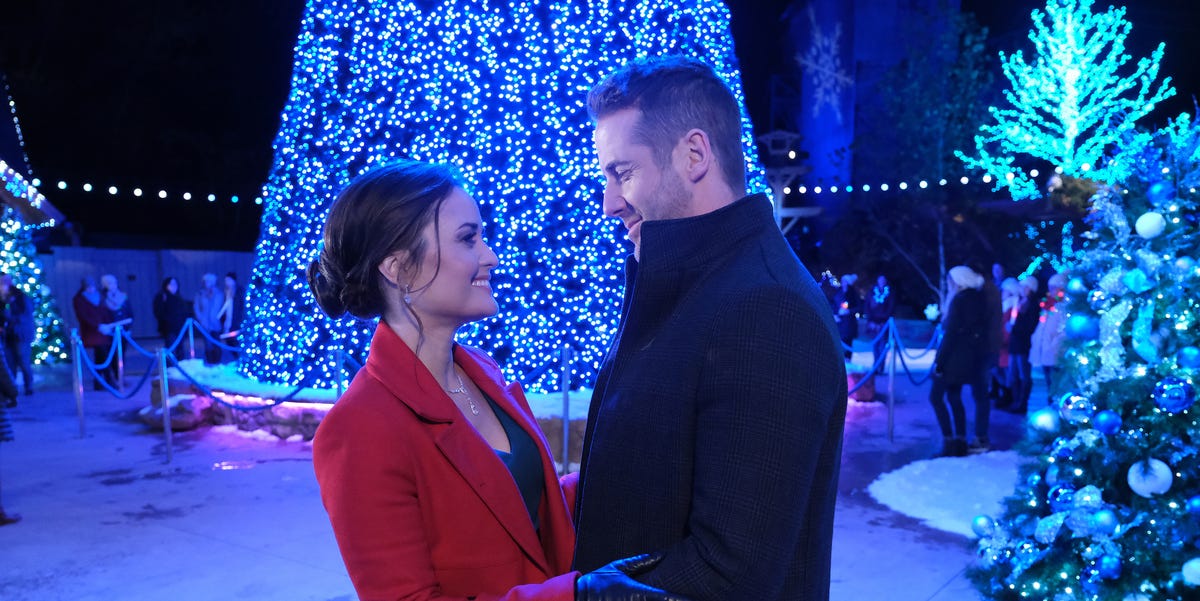 It's never too early to start thinking about Christmas—especially when Hallmark's Countdown to Christmas 2023 is just around the corner!
This year, Hallmark is fully prepared to do what it does best: bring the Christmas spirit with original holiday movies all season long. And this season it's releasing 31 new holiday movies, along with the Hallmark Movies & Mysteries Channel's nine—meaning 40 new films to watch! Want to see last year's favorite? Don't worry, you'll still be able to enjoy past seasons' must-sees ahead of the holiday.
Starting Friday, October 20th, Hallmark will kick off its annual Countdown to Christmas on the Hallmark Channel with Checkin' It Twice, a new original film. The Hallmark Movies & Mysteries Channel will also be kicking off its own countdown, Miracles of Christmas. Once the countdown starts, the channel will debut new movies every Friday, Saturday, and Sunday at 8 p.m. ET. Plus, a new movie every Thursday on the Hallmark Movies & Mysteries channel.
If, like us, you're a Hallmark fan, you're sure to recognize at least one or two recurring stars in the upcoming films. For instance, Hallmark regular Lacey Chabert will be starring in her 14th(!) movie with the channel this season. This year Chabert, known for her iconic role in Mean Girls, will star in two movies: A Merry Scottish Christmas and Haul Out the Holly: Lit Up.
If you don't have cable or you want to watch Hallmark movies on-demand, including your favorites from the Movies & Mysteries channel, you can subscribe to Hallmark's streaming service: Hallmark Movies Now for $4.99/month. Subscribers can enjoy special perks like early movie releases, access to extended versions of old favorites, plus exclusive premieres for An Ice Palace Romance and Rescuing Christmas.
Now, it's time to grab your hot chocolate, fuzzy socks, and a comfy blanket to get ready to watch all the feel-good Christmas movies that Hallmark has so lovingly prepared for us this holiday season.
Hallmark Countdown to Christmas 2023 Schedule
Friday, October 20: Checkin' It Twice
Stars: Kim Matula, Kevin McGarry
A hockey player (McGarry) falls for a real estate agent (Matula) in a career crisis when he's traded to her hometown and moves into the cottage in her hockey-fan-filled family's backyard.
Saturday, October 21: Where Are You, Christmas?
Stars: Lyndsy Fonseca, Michael Rady, Jim O'Heir, Julie Warner
When Addy (Fonseca) wishes for a year without Christmas, she wakes up in a world of black and white—literally. She has to work with the town mechanic (Rady) to get Christmas back.
Sunday, October 22: Under the Christmas Sky
Stars: Jessica Parker Kennedy, Ryan Paevey
Kat (Kennedy) is an esteemed astrophysicist, who is scheduled for her first trip into space until an accident grounds her. While on leave, grappling with the reality that her dream of being an astronaut is seemingly over, she volunteers at the local planetarium. There, she is paired up with by-the-book David (Paevey) to work on an exhibit opening right before Christmas. Will the stars align to bring these two together at the holidays?
Friday, October 27: Christmas by Design
Stars: Rebecca Dalton, Jonathan Keltz
A fashion designer (Dalton) gets accepted into a Christmas challenge to create a new holiday-themed collection and not only finds the inspiration for her next line but decides to redesign her approach to what's most important in life.
Saturday, October 28: Mystic Christmas
Stars: Jessy Schram, Chandler Massey, Patti Murin, William R. Moses
Juniper (Schram) travels to Mystic, Connecticut during the holidays to work at the rehabilitation center and aquarium. She reconnects with Sawyer (Massey, the owner of the pizza shop.
Sunday, October 29: Joyeux Noel
Stars: Jaicy Elliot, Brant Daugherty
When a romantic painting of a Christmas market captures the imagination of Copy Editor Lea (Elliot), she is sent to France with pragmatic reporter Mark (Daugherty) to uncover the mystery behind the artist.
Friday, November 3: Flipping for Christmas
Stars: Ashley Newbrough, Marcus Rosner
It's almost Christmas when busy realtor Abigail (Newbrough) agrees to help her sister with the "simple flip" of a recently inherited home. Unfortunately, co-beneficiary Bo (Rosner) has other plans in mind.
Saturday, November 4: Never Been Chris'd
Stars: Janel Parrish, Pascal Lamothe-Kipnes, Tyler Hynes
Home for the holidays, BFFs Naomi (Parrish) and Liz (Lamothe-Kipnes) reconnect with high school crush Chris Silver (Hynes). A complex love triangle forms, forcing them to take stock of their lives and find the value of friendship.
Sunday, November 5: The Santa Summit
Stars: Hunter King, Benjamin Hollingsworth
Three best friends decide to go to the annual Santa Summit together: Jordin (King), a recently dumped art teacher looking for some fun; Ava, a shy woman hoping to run into her crush; and Stella, a Christmas cynic with no interest in the Santa Summit whatsoever. At the beginning of the evening, Jordin meets and bonds with Liam (Hollingsworth), but doesn't get his name before getting separated. As the night continues and hijinks ensue, amidst the chaos, they all find what they're looking for: Christmas spirit, potential romance, and a strengthened bond of friendship.
Friday, November 10: Everything Christmas
Stars: Katherine Barrell, Cindy Busby, Corey Sevier, Matt Wells
Lori Jo's (Busby) love for Christmas takes her on a road trip to Yuletide Springs with her roommate Tori (Barrell), where Christmas is celebrated year-round. Along the way, the friends meet Carl (Sevier) and Jason (Wells), and they make stops during their journey to enjoy more small-town Christmas attractions. But when a series of events puts a damper on their plans, a little Christmas magic may put this trip back on the right path.
Saturday, November 11: Christmas Island
Stars: Rachel Skarsten, Andrew Walker
When a snowstorm diverts Kate's (Skarsten) first private flight en route to Switzerland to Christmas Island, she must team up with an air traffic controller (Walker) to secure her dream job as the family's pilot.
Sunday, November 12: A Heidelberg Holiday
Stars: Ginna Claire Mason, Frédéric Brossier
Heidi Heidelberg (Mason) receives the dream opportunity to sell her beautiful, handmade glass ornaments at the prestigious Heidelberg Christmas Market in Germany. While there, she meets Lukas (Brossier), a local artisan who helps her reconnect with her lost heritage.
Friday, November 17: Navigating Christmas
Stars: Chelsea Hobbs, Stephen Huszar
Recently divorced Melanie (Hobbs) and her son Jason visit a remote island for Christmas, only to find themselves running a real working lighthouse where she connects with the curt but cute owner (Huszar).
Saturday, November 18: A Merry Scottish Christmas
Stars: Lacey Chabert, Scott Wolf
When estranged siblings, Lindsay (Chabert)) and Brad (Wolf) Morgan travel to Scotland at Christmas to reunite with their mother Jo, a big family secret is revealed.
Sunday, November 19: Holiday Hotline
Stars: Emily Tennant, Niall Matter
After leaving London, Abby (Tennant) connects with an anonymous caller while working at a cooking hotline. The caller is single dad "John" (Matter) who Abby unknowingly has become smitten with in real life.
Thursday, November 23: Catch Me If You Claus
Stars: Italia Ricci, Luke Macfarlane
Avery Quinn (Ricci) is an aspiring news anchor who's finally getting her big break on her station's Christmas morning newscast. But that's put in jeopardy when she captures an intruder in her home wearing a red suit claiming to be Chris (Macfarlane), Santa's son, who is on his first mission. A night of adventure ensues. Along the way, they connect over their similar experiences growing up and inspire each other to go after their dreams.
Friday, November 24: Letters to Santa
Stars: Katie Leclerc, Rafael de la Fuente
When young siblings receive a magic pen from Santa that appears to grant wishes, they request a Christmas gift they want most of all: For their separated parents (Leclerc, de la Fuente) to reunite.
Friday, November 24: Holiday Road
Stars: Sara Canning, Warren Christie
When the weather leaves each of them stranded at the airport for the holidays, a tech entrepreneur (Christie), a travel writer (Canning), and an interesting group of fellow strandees all agree to rent a shared van to embark on a road trip to Denver. When their unexpected journey brings them into uncharted territory, they navigate a series of misadventures together and form a deeper bond that just might change the trajectories of each of their lives.
Saturday, November 25: Christmas in Notting Hill
Stars: Sarah Ramos, William Moseley
Famous soccer star, Graham Savoy (Moseley), has historically been too busy for love, but when he comes home to Notting Hill for Christmas, he changes his mind after meeting Georgia (Ramos), a visiting American and the one person who has no clue who he is.
Saturday, November 25: Haul Out the Holly: Lit Up
Stars: Lacey Chabert, Wes Brown, Stephen Tobolowsky, Melissa Peterman, Ellen Travolta, Seth Morris, Jennifer Aspen
As the holidays near, Emily (Chabert) and Jared (Brown) are looking forward to celebrating the holidays together again, this time as a couple. Emily, now embracing Evergreen Lane's uniquely festive spirit, is ready to work with Jared, Ned (Tobolowsky), Mary Louise (Travolta), and Pamela (Peterman) to make this year's Christmas celebrations the best yet—even if being the HOA president's girlfriend doesn't stop those dreaded decorating citations.
Sunday, November 26: Our Christmas Mural
Stars: Alex Paxton-Beesley, Dan Jeannotte
Olivia (Paxton-Beesley) is a single mom who returns home for Christmas. Her mom secretly enters her into a mural contest; she wins but partners with teacher Will (Jeannotte) to create a Christmas masterpiece.
Sunday, November 26: A Biltmore Christmas
Stars: Bethany Joy Lenz, Kristoffer Polaha, Jonathan Frakes, Robert Picardo
Lucy (Lenz) is a screenwriter who lands the job of a lifetime when she's hired to pen the script for a remake of the beloved, holiday classic His Merry Wife!, which was filmed in 1947 at the beautiful, historical Biltmore House. When the head of the studio sends Lucy to Biltmore Estate for research and inspiration, she unwittingly discovers the ability to travel to the 1947 set of the film. While on set, she and Jack Huston (Polaha), one of the film's stars, spend time together and become close. But her sudden appearance has set off a chain of events that put the production in jeopardy. Before she can return to the present, Lucy must make things right or threaten to alter the future forever.
Friday, December 1: My Norwegian Holiday
Stars: Rhiannon Fish, David Elsendoorn
JJ (Fish), grieving the loss of her grandmother and seeking dissertation inspiration, happens upon an unexpected holiday destiny. Meeting Henrik (Elsendoorn) a Norwegian from Bergen, their connection deepens when he discovers she has a troll figurine from his hometown. To explore the troll's history and her grandmother's ties, JJ agrees to join Henrik on a journey to Norway.
Saturday, December 2: A Not So Royal Christmas
Stars: Brooke D'Orsay, Will Kemp
Tabloid journalist Charlotte (D'Orsay) attempts to land an interview with a reclusive Count. In response, the royal family has a groundskeeper (Kemp) pose as the Count since the real one fled years ago.
Sunday, December 3: Christmas with a Kiss
Stars: Mishael Morgan, Ronnie Rowe Jr., Jaime M. Callica
A woman (Morgan) returns home to help with her family's Christmas Carnival and romance ignites. A photojournalist (Rowe) curates a surprise reunion.
Friday, December 8: Magic in Mistletoe
Stars: Lyndie Greenwood, Paul Campbell
Harrington (Campbell) is the author of a popular book series but commercial success has left him a bitter recluse. As he returns to his hometown for an annual Christmas festival celebrating his books, he's joined by April (Greenwood), a publicist for the major publishing house he works with. April is there for damage control after Harrington's recent comments on social media have upset some. But as she gets to know him better, can April unlock Harrington's guarded heart and help him rediscover the spirit of the holiday?
Saturday, December 9: Christmas on Cherry Lane
Stars: Catherine Bell, Jonathan Bennett, John Brotherton, Erin Cahill, James Denton, Vincent Rodriguez III
A young couple preparing to welcome their first child (Brotherton, Cahill), an empty-nester (Bell) and her fiancé (Denton) ready to start a new chapter, and a couple (Bennett, Rodriguez III) who unexpectedly have the chance to expand their family on Christmas Eve, celebrate the holiday as they navigate life changes.
Sunday, December 10: Round and Round
Stars: Vic Michaelis, Bryan Greenberg, Rick Hoffman
Rachel (Michaelis) is stuck in a time loop, reliving the night of her parents' Hanukkah party. Can Zach (Greenberg), the "nice boy" Grandma's trying to set her up with, help her make it tomorrow?
Friday, December 15: The Secret Gift of Christmas
Stars: Meghan Ory, Christopher Russell
Bonnie (Ory) is a personal shopper who helps her new, widowed client Patrick (Russell) reconnect with his young daughter. Though Bonnie and Patrick's ideas of shopping differ, she is determined to get Patrick and his daughter everything on their wish list.
Saturday, December 16: Sealed with a List
Stars: Katie Findlay, Evan Roderick
This holiday season, festive Carley (Findlay) sets out to conquer her list of abandoned resolutions from last year. Aided by coworker Wyatt (Roderick), she finds love and the confidence to chase her dreams.
Sunday, December 17: Friends & Family Christmas
Stars: Humberly Gonzalez, Ali Liebert
Daniella (Gomez) has recently moved to New York to pursue an art career and decides to stay in town to share the holidays with her circle of friends, instead of going home to see her parents. Amelia (Liebert) is a talented entertainment lawyer trying to stay focused on her work after a broken engagement. When Daniella and Amelia are set up by their parents, they agree to pretend that they're dating, to appease them for the holidays. However, as they spend time in each other's worlds, they soon build a connection that is deeper than either of them could have hoped for.

Madeleine, Prevention's assistant editor, has a history with health writing from her experience as an editorial assistant at WebMD, and from her personal research at university. She graduated from the University of Michigan with a degree in biopsychology, cognition, and neuroscience—and she helps strategize for success across Prevention's social media platforms.