Letchworth Arts & Crafts show is a 'go'; event will be in Perry this year | Local News
4 min read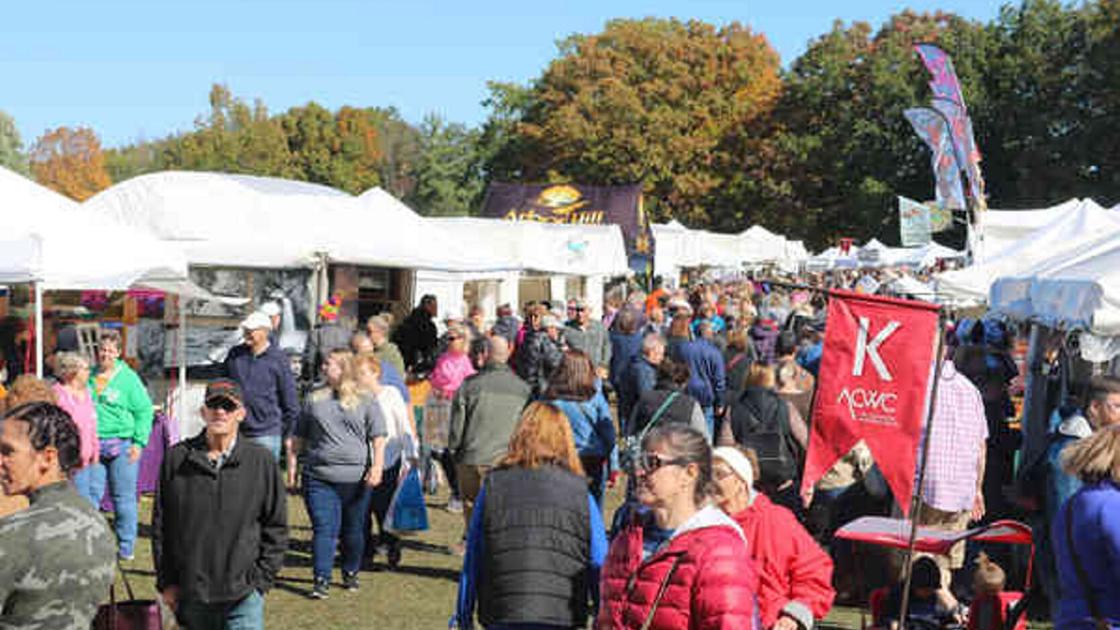 PERRY — A perennial autumn favorite will return in a slightly different form this year.
The Letchworth Arts & Crafts Show and Sale will take place on Columbus Day weekend, Executive Director Jacquie Swaby of the Arts Council for Wyoming County confirmed Friday. It's set for the village of Perry, as opposed to its traditional location in Letchworth State Park.
Details are still being worked out, but the show will maintain its mix of top-notch artists, artisans and vendors.
"Most of the event will take place in Perry Village Park and also will take advantage of the firemen's buildings that they will avail to us," Swaby said. "We are very, very mindful of density control in terms of people, so we are looking at all the spaces available, and how to best create a new mapping that will be safe for everyone. So although we're focusing on the village park, I can't say every single aspect of the event will happen there at this point."
As a matter of fact, crowd density played a big role in the change. The ACWC — which organizes the art show — and Letchworth State Park have an excellent relationship, Swaby said. The event has taken place at the park since its founding and typically attracts about 25,000 to 30,000 people daily.
But that sheer influx of people posed challenges for the park this year. Letchworth has hosted significantly more visitors during the COVID-19 pandemic and was forced to close itself to visitors several times when crowds got too large last summer.
"It became too much for their infrastructure and staff capacity," she said.
A different weekend was considered, but that would shorten the Arts & Crafts show to two days only. It would likewise conflict with the region's other large festivals.
"We wanted to stay clear of any conflicts like that," Swaby said. "It became more and more obvious that the park probably would not work as well for us this year. We also want to make it extremely clear to the whole world that this move this year to Perry does not determine the future of the Letchowrth Arts & Crafts Show venue. This is what we decided to do this year."
Perry proved to be the best choice for this year's event and the village has been totally supportive, she said. Village officials have been more than willing to work with the ACWC — its main gallery is located on Main Street — and organizers are still working out the festival's details.
They hope to have issues such as crowd density and parking determined within about two weeks, she said. They're aiming to address those factors proactively.
The ACWC will prioritize providing the highest level of safety for artisans and attendees with a safety plan that will reflect current CDC guidelines, the organization's officials said. All social distancing protocols will be strictly observed.
The new location will not prevent people from checking out Letchworth State Park if they want to explore the autumn scenery, Swaby said. The park's about five miles from the village, and Perry is itself described as a "Letchworth Gateway Village."
"This is an established, signature autumn event for our entire region, so of course I'm thrilled to see it land in Perry," said Mayor Rick Hauser in a news release. "The ACWC knows how to put on a well-organized, curated show and sale that creates loyal visitors, promotes artisans, celebrates craft and beauty, and generates revenue that supports the arts all year long. It also generates significant sales tax revenue for Wyoming County, so Perry is pleased to host and lend our support, planning and facilities to ensure the event is as successful as ever. In turn, I'm optimistic that our area businesses will take full advantage of the proximity and exposure."
This year will mark the 45th Letchworth Arts & Crafts Show. Last year's event was canceled due to the COVID-19 pandemic.
The show — which has been ranked in the top 100 classic art festivals nationwide — is also the ACWC's biggest afundraiser. Swaby said it couldn't endure another cancelation, and is thanking the village and organizations such as the Perry Rotary Club and Perry Fire Department for their support.
"There is a lot more we will need to do this year than ever before," Swaby said. "One thing we want to assure the public and our artisans is that they have come to know us as an organization that presents a very lovely, professional show with amazing customer service and those things will not be compromised. We are not going to overpromise, but we are hoping to over-deliver."
https://www.thelcn.com/news/local/letchworth-arts-crafts-show-is-a-go-event-will-be-in-perry-this-year/article_825f26ee-1f3b-5567-b825-b344b172dbc0.html