Local Art Exhibition and Sale Kicks Off the Winter Holiday Season at CVA's Greensboro Cultural Center Art Gallery | The Arts
3 min read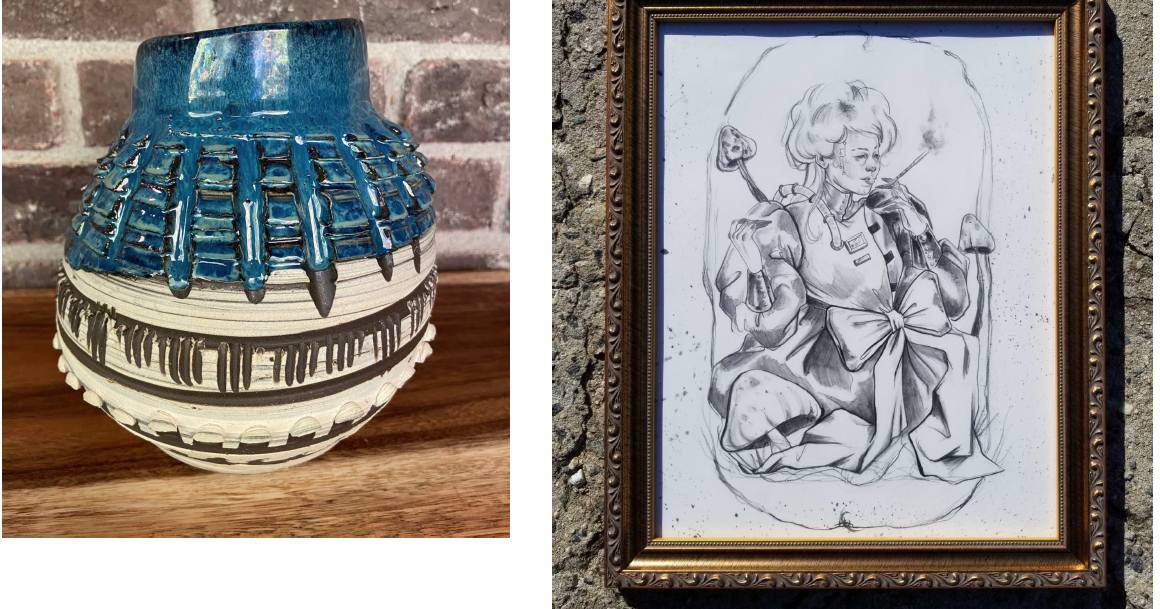 Showcase of local art benefits the CVA's gallery and educational programming, supports artists and offers unique handmade gifts at reasonable prices for the holidays
Greensboro, N.C. Nov. 22, 2021 – The Center for Visual Artists (CVA) announces the 4th Annual Holiday Invitational of regionally created fine art and craft goods, just in time for the holidays. From Nov. 27 – Dec. 23, the CVA Gallery will be transformed into a retail shop featuring exceptional gifts all handmade by local artists. We will also have many items available online in a virtual gallery which can be found on our website, www.mycvagreensboro.org.
The CVA Holiday Invitational will include a wide array of art and fine crafts by 40+ artists, including: painting, pottery, jewelry, purses and bags, greeting cards, photographs, prints, textiles, holiday decor, and much more.
We also have a selection of art with proceeds going towards supporting organizations such as The Art Alliance of Greensboro, the 50-plus artist community, and our very own CVA.
The Invitational includes artworks by a wide range of local and regional artists, which makes this not just an art sale but an exhibition of works by these artists.
First Fri., Dec. 6, from 6-9 p.m, The Holiday Invitational will be open late and open to the public (for free, as always). Join us for this free event, some light refreshments, and the opportunity to purchase handmade art and fine craft items for everyone on your gift list. CVA asks that all visitors wear masks or show proof of vaccinations.
On Sat., Dec.11, 10am – 12pm and Wed., Dec. 15, 6pm – 8pm CVA will host a Holiday Workshop: Create your own alcohol ink painting with artist Sandra Belz.
Enjoy time with friends and take a break from the holiday stress while creating your very own abstract artwork using alcohol inks and resin on a framed panel. Register for a spot at www.mycvagreensboro.org.
A selection of artists included in the exhibit and sale as of press time include:
● Agnes Preston-Brame (painting)
● Allison Daniel (ceramics)
● Alysoun Gough (jewelry)
● Andrew Duke (design)
● Anique Frederick (painting)
● Ann Marie Klick (ceramics)
● Art Alliance students, including: Stephanie Parascandola, Patty Jennings, JP Cory, Teresa Sullivan, Miru Ranganathan, Patty Jennings, Pat Spokas (ceramics)
● Bernadette Potts (photography)
● Brett McDonough (ceramics)
● Cassandra Liuzzo (fibers and textiles)
● Catena Bergevin (textiles)
● Chara Murray (wood work)
● Chaunte Rankin (resin work)
● Claire Cadorette(glass work)
● Cyrus Spears (drawing/illustration)
● Danny Ko (ceramics)
● Debbie Dion Hayes (trays and wall art)
● DeAnna Williams (jewelry and painting)
● Elijah Miller (drawing/illustration)
● Emily Clancy (painting)
● Erika Stafford (Industry 223)
● Jasmine Best (fabric plants)
● Odriewgo (prints)
● Jennifer Reis (eco prints)
● Jessica Dame (painting/drawing)
● Jillian Roberts (painting)
● Jim Weaver (printmaking)
● John D. Gall (Printmaking)
● Karen Archia (drawing/collage)
● Kathy Hill (Jewelry)
● Krystal Hart (painting)
● Kyla Eliza (jewelry)
● Kym Cooper (painting)
● Linda Spitsen (painting)
● Lindsey Naylor (painting/collage)
● Lola Henderson (ceramics)
● Lori Key (painting)
● Madeline Miller (JoyFul Dots)
● Mary E Ryan (painting, jewelry, ornaments)
● Morgan Myers (knitted wearables)
● Pam Crist (photography)
● Reneesha Mccoy (painting/drawing)
● Robin Reid (Reviz Sewing Studio)
● Ryan Oakley (drawing/Illustration)
● Stephanie Ponder (jewelry)
● Svetlana Kurkalova (Jewelry digital illustration)
● Sunny Gravely (mixed media)
● Tyamica Mabry (painting, mixed media, jewelry)
About the Center for Visual Artists
The Center for Visual Artists (CVA) is a 501(c)(3) visual art non-profit organization in the downtown Greensboro Cultural Center at 200 N. Davie St. that supports emerging artists of all ages through educational programs, exhibition opportunities, and community outreach. Without the strong support of donors, grantors, and other supporters in the Greensboro community, our efforts would not be possible.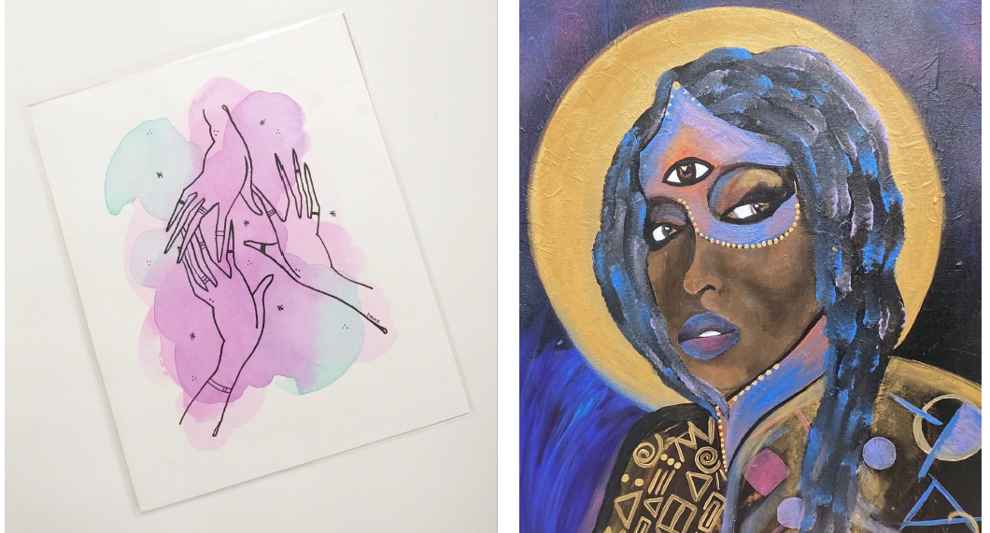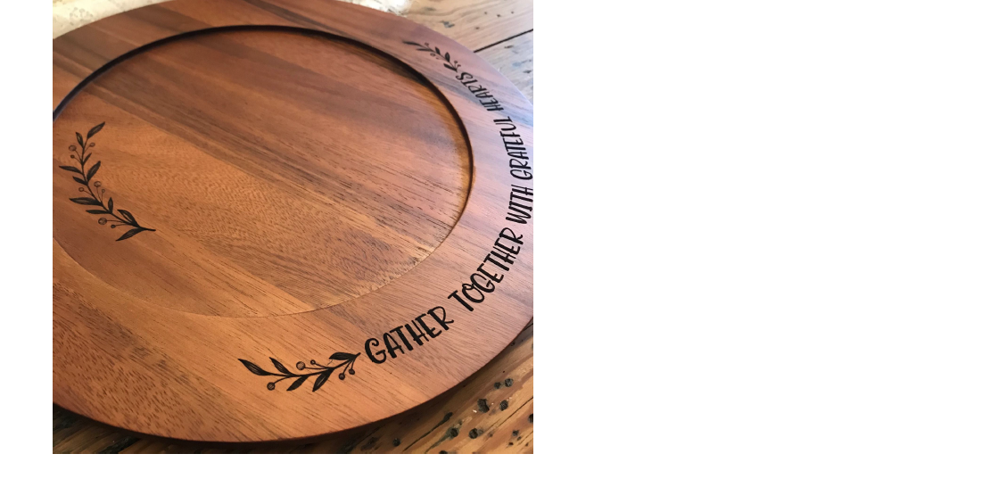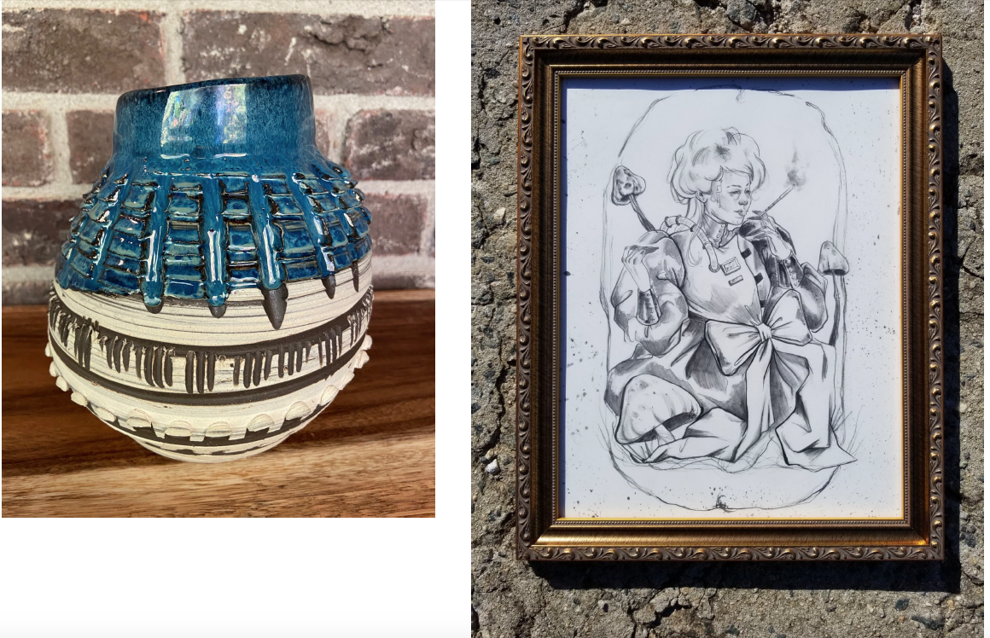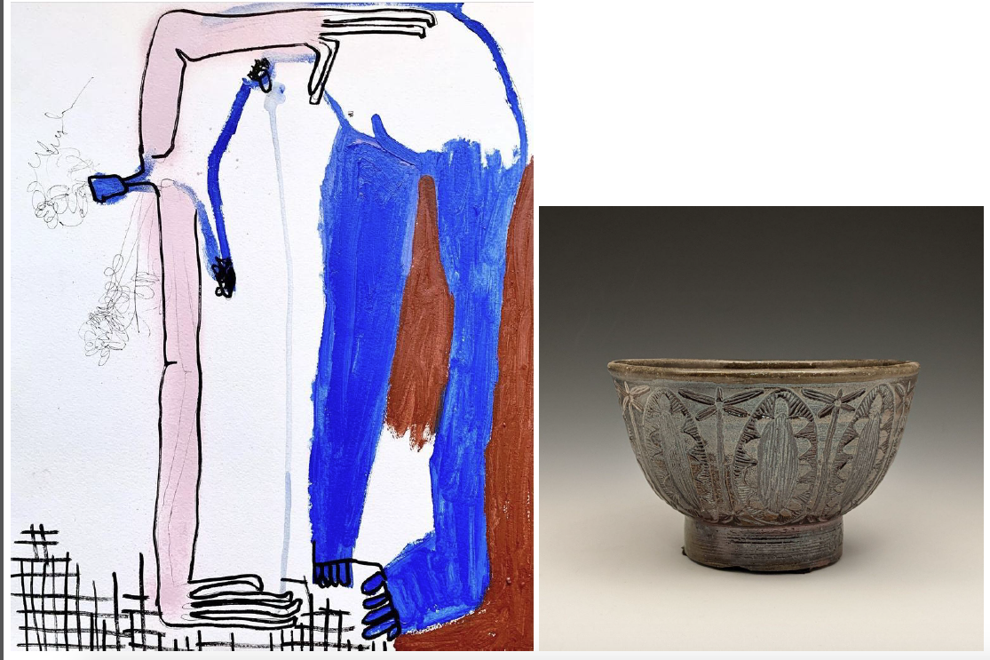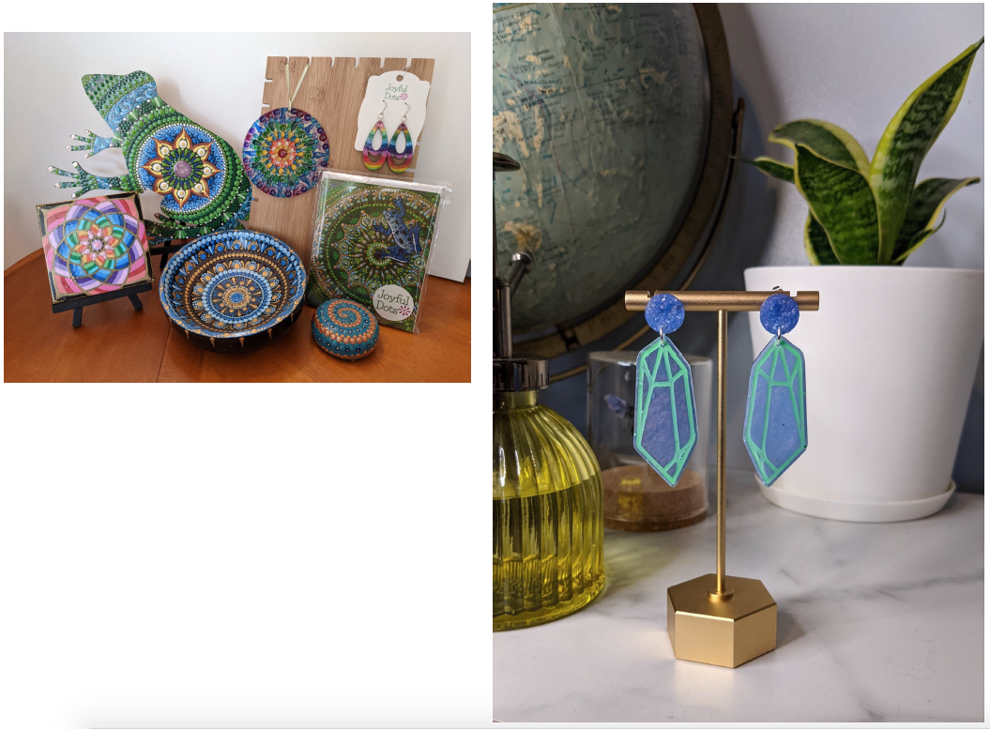 Artwork Credits from left to right:
1. Jessica Dame
2. Tyamica Mabry
3. Chara Murray
4. Danny Ko
5. Ryan Oakley
6. Reneesha Mccoy
7. Allison Daniel
8. Madelin Miller (JoyFul Dots)
9. Alysoun Gough (SoSo Design Co.)