Sculpture, Fine Art & Asian Art Ride High At Ahlers & Ogletree
7 min read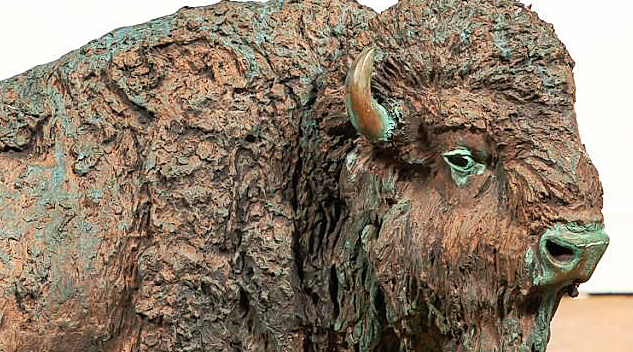 Review by W.A. Demers, Photos Courtesy Ahlers & Ogletree
ATLANTA, GA. – Henry Merwin Shrady's (American, 1871-1922) "Buffalo," 1900, bronze sculpture sold for $114,950, providing the fireworks on day three of a series of sales by Ahlers & Ogletree, October 22-24. Signed and dated on base, the sculpture was inscribed "Copyright 1900/Theodore B. Starr" and measured approximately 22½ by 27 by 12 inches. Five phone bidders were relentless on the lot, while online bidders faded as the price rose with a US phone bidder prevailing, according to the firm's director Elizabeth Rickenbaker. Shrady was best known for the Ulysses S. Grant Memorial on the west front of the US Capitol in Washington, DC. More recently, one of his sculptures, "Robert Edward Lee," (1917-1924), Lee Park, Charlottesville, Va., which was completed by Leo Lentelli following Shrady's death, made headlines when it was removed this past July as part of the movement for the removal of Confederate monuments and memorials. "An iconic American image by a famous American artist that does not come up for auction very often," remarked Rickenbaker, noting that it stays in the United States. "We had several of the top Western art buyers bidding on the phone for that piece, a really heated bidding climate. It was wonderful to see, especially after a very long three-day auction."
The series, which totaled $1,586,898, offered more than 1,200 lots of period antiques, fine art, Asian arts, modern design and decorative arts across three auction sessions, with the first session devoted to Asian arts, the second dominated by fine art and the third with a focus on fine and decorative art. Sell-through was 94 percent with more than 10,000 registered bidders participating via three online platforms, phones and absentee bids.
On the first day, a Chinese 12-panel painted court scene floor screen outperformed its $1,5/3,000 estimate to sell for $10,625 to an American bidder on LiveAuctioneers. Large at 90 inches high and with each panel 17½ inches wide, the figural court scene on paper enforced with canvas came in two sections. Like much of the material in the sale, it came from a local Atlanta estate.
"With Asian art we tend to do pretty well," said Rickenbaker. "Chinese definitely surpasses Japanese, though we did have a nice couple of Japanese pieces this time that performed well. Export tends to do pretty well for us as well, and that was buried in this first session. We typically include export with English or American, just because we find that the buyers of Asian export tend to be those who also collect traditional antiques."
A notable textile on the first day was a striking Chinese red and gilt dragon and phoenix embroidery. Its high estimate was $600 but it did much better, settling at $6,875. "That was wonderful," said Rickenbaker, "a beautiful piece, really large and very finely woven." It featured a red-backed Double Happiness embroidery panel with central dragon and phoenix figures in gilt thread surrounded by various Buddhist symbols, clouds and a floral and bat motif border. Apparently unmarked, it measured approximately 31-1/3 by 50¼ inches. From a private South Carolina collection, it is heading back to China.
A group of two Chinese carved celadon glazed porcelain vases comprised a square-form vase decorated with bats, and a yuhuchunping or pear-form vase decorated with a dragon encircling a pearl. They were bid to $5,625.
Accompanied by matching stands, a pair of Chinese peach bloom liuyeping or willow-leaf-form vases, 8½ inches high, also exceeded its estimate of $600/800, realizing $5,000, won by a European bidder. There was a Kangxi-type mark to the underside of each vase. "Those were beautiful," said Rickenbaker. "The porcelain stands were very unique."
Fine art dominated the second sale day, with a lithograph by Frank Stella (American, b 1936) commanding attention right out of the gate. Fetching $15,000 from a domestic buyer against a $4/6,000 estimate, "Sinjerli Variation" from 1977 was pencil-signed, dated and numbered 67 of 100, framed, 39½ by 50 inches. Noted for his work in the areas of minimalism and post-painterly abstraction, Stella's abstract paintings bear no pictorial illusions or psychological or metaphysical references and he is known for saying a picture is "a flat surface with paint on it – nothing more."
Robert Natkin (1930-2010) was one of the most important abstract painters of his generation. Throughout the second half of the Twentieth Century, he painted lyrical and powerful canvases, which are represented in the permanent collections of major museums as well as numerous prestigious corporate and private collections worldwide. In this sale, a work from his "Intimate Lighting Series," 1975-77, an acrylic on canvas, signed lower left and with a Hokin Gallery, Palm Beach, label verso, realized $13,640. It measured approximately 28¾ by 26 inches minus the frame.
Champion of local art with a style encompassing naturalism and expressionism, Lamar William Dodd (American, 1909-1996) was represented in the sale with "Staccato," 1951, a roiling Monhegan Maine, coastal scene that surged to $10,625 above a $1/2,000 estimate. The oil on canvas was signed and dated lower right, with a Grand Central Art Galleries label verso, measuring approximately 16 by 20 inches minus the frame. It is staying in the United States.
Benny Andrews (1930-2006) was an artist, educator and activist. Born in Plainview, Ga., Andrews earned a BFA from the School of the Art Institute of Chicago in 1958, and soon after, he moved to New York City, where he would live, work and paint for nearly five decades. "Transformation Study," 1991, an oil and collage on paper, left the gallery at $9,920. It was signed, titled and dated on the backing and had provenance to a purchase at McIntosh Gallery in Atlanta in 1993, as well as an exhibition history for "Benny Andrews: A Georgia Artist Comes Home," Madison Morgan Cultural Center and Museum of Contemporary Art of Georgia, 2007. It came from a local Atlanta collector active in the folk art scene. "The Benny Andrews was the shining diamond from her collection," said Rickenbaker, who added that another Andrews will be offered in a later sale.
Going to Ontario, Canada, is a Kenneth Noland (1924-2010) "Target," lithograph, framed, from 1978, brought an above-estimate $8,680. Pencil-signed, it was dated and numbered 46 of 50, measuring approximately 35½ by 29¾ inches minus the frame.
In addition to the Shrady "Buffalo" bronze, the fireworks in the third session on October 24 were augmented by a large majolica figural table lamp. It was estimated just $500-$1,000 so it was a surprise when robust bidding pushed it to $28,125. The piece was made by Hautin & Boulanger & Cie (French, 1804-1938) and incorporated a sculptural brown ground majolica two-light lamp with four male figures on the base holding up an urn. Accompanied by Arts and Crafts-style pierced metal shade with fabric lining, the lamp stood approximately 31½ inches high, including finial, and the shade had an 18-inch diameter. "We had a couple of very active phone bidders on this piece," said Rickenbaker. "Whenever things go crazy like this, I usually ask the phone bidder what makes it so special. And he echoed what I thought; it was just a beautiful, bold period piece by an important maker and in pretty much perfect condition."
Two 12-piece sets of Royal Copenhagen Flora Danica dinner plates were offered, with the higher priced set of 10-inch plates featuring botanical motifs with gilt and reticulated rims going out at $21,080.
More fine art was on offer, including a 1902 impressionist landscape by Gaines Ruger Donoho (American, 1857-1916) from an Atlanta collection that earned $17,500. Titled "Blossom Time, Left of Path, Marlotte," the oil on canvas was signed and dated lower left and titled on stretcher. It sported a number of exhibition labels, including a 1977 Parrish Art Museum, Southampton, N.Y., exhibition label and measured 24 by 20 inches minus the frame.
Continental, probably Italian, Nineteenth Century "Portrait of a Lady" oil on canvas presented in tabernacle-style giltwood frame, approximately 17½ by 13½ inches minus the frame found a buyer at $12,720. "I love that painting," said Rickenbaker. "What a nice surprise! It came out of an estate in Alabama. She's just a beauty. Hopefully we didn't just sell the next undiscovered Da Vinci for $12,000."
Finally, an oil on canvas village scene by Polish artist Leon Wyczolkowski (1852-1936) titled "Old Town" is staying in the United States, having fetched $11,160.
Prices given include the buyer's premium as stated by the auction house. Ahlers & Ogletree's next three-day auction series is set for January 14-16, featuring two single-owner collections and two days of multiple owner sales. For information, www.aandoauctions.com or 404-869-2478.

https://www.antiquesandthearts.com/sculpture-fine-art-asian-art-ride-high-at-ahlers-ogletree/