Spotify Kicks Off International Women's Day With Love Letters, Playlists From Gender Equity Advocacy Organizations, and New Music Created Exclusively by Women
6 min read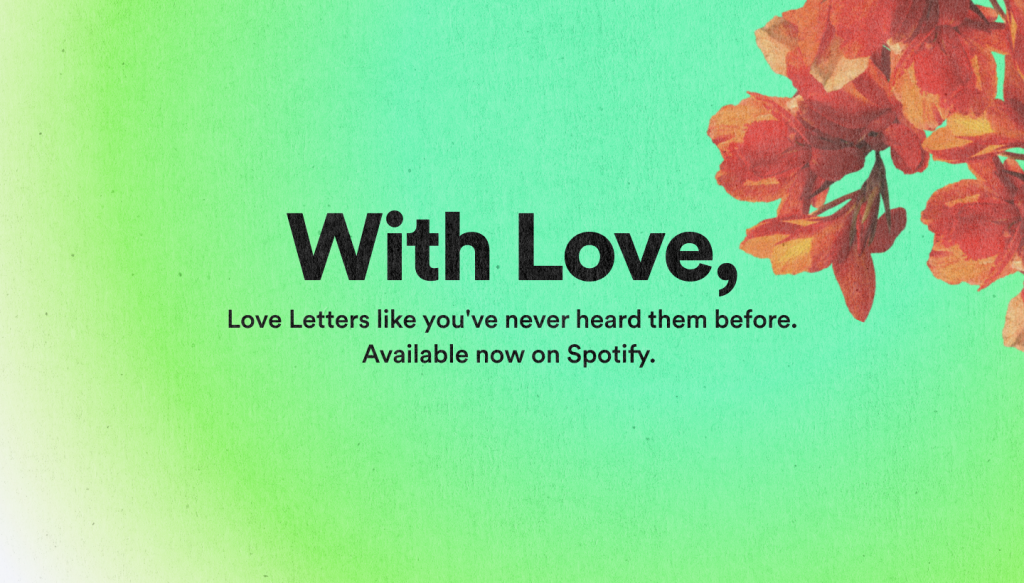 Today, Spotify is celebrating International Women's Day by sharing the music and stories of women creators, artists, activists, and nonprofits around the world. The music, lyrics, and voices coming from women in the industry and beyond are complex and vibrant—something we're amplifying for our listeners this month through the creation of platform initiatives, release of new music created entirely by women, and off-platform support of nonprofits. 
New playlists and a refreshed EQUAL hub
Spotify is starting off International Women's Day With Love, a podcast playlist series created in partnership with social impact agency Invisible Hand with production support by Pod People. With Love celebrates and honors 24 women who share "love letters" to their past selves or to a key supporter who changed their lives during a pivotal moment in time. There will be three playlists: one for Artists, one for Storytellers, and one for Changemakers. Artists like Fefe Dobson and Pyra, songwriters like Jennifer Decilveo and Kuinvi, creators like Munroe Bergdorf and Rintik Sedu, and activists like Dominique Morgan and Lauren Wasser all share their stories in the collection playlists. These personal anecdotes of wisdom, gratitude, and compassion spotlight the vast landscape of what it means to be a woman and the outsized impact that women have in the world.
Spotify is also highlighting five global nonprofits focused on gender equity by amplifying each nonprofit's own curated playlist themed around the voices of the communities they serve. Organizations include:
In addition to spotlighting these organizations on the platform, Spotify will be giving donations to each of them to support their critical work.
The With Love and nonprofit playlists will all live on the EQUAL Global Hub, which continues to be a one-stop destination for listeners who want to discover music from emerging women artists. 
This month, the hub is getting a new look and feel and will be available in new markets, including those in the Middle East, North Africa, and Pakistan. It will also include an EQUAL Arabia playlist from MENA and EQUAL Pakistan. Both are the latest markets to join EQUAL.
EQUAL x Spotify Singles
In addition to these playlists, listeners can find brand-new music on the EQUAL Global Hub. EQUAL and Spotify Singles, two of Spotify's innovative music programs, are uniting to bring listeners recordings from an incredible slate of emerging women artists.
EQUAL fosters equity for women in the music and audio space and has helped highlight the careers of women around the world. Spotify Singles, which launched in 2017, gives artists an opportunity to record new versions of their own songs, songs of artists they love, or an original song. Since its launch almost six years ago, tracks from the program have collectively hit over 5 billion streams.
For International Women's Day, the two programs collaborated to produce three songs created exclusively by women—from the production to the recording to the engineering. 
Ethel Cain, whose music reflects on her upbringing as a backwoods churchgoer in the deep South and who is Spotify's first-ever transgender EQUAL ambassador, took this moment to cover Britney Spears's 2003 hit "Everytime." Produced by Ethel and recorded in Los Angeles, the harmonica-backed cover of the iconic ballad with its haunting, acoustic guitar  puts her wide-ranging, layered vocals at the forefront. 
"I've always loved this song and immediately knew I could take Britney's melodies and make something super dreamy with it," shared Ethel. "I usually record alone at home, so working in the Spotify studio with all the synths and old vintage gear was a really special and fun experience. I think Britney wrote a very lovely song, and it was an honor to put my spin on it."
Mexican composer, singer, songwriter, and producer Bruses took to the studio in Monterrey, Mexico, with producer Daniela Mendez to record her own unique spin on Spice Girls' "Wannabe." Known for her Latin-inspired indie-pop sound, Bruses brings girl power front and center in this single. 
"For me, the most important thing with this song as a fan was to respect the original essence. It's one of those hits that last a lifetime; it's a classic," explained Bruses. "In this version we add a bit of rock and punk, especially in the chorus. I always imagined that part a little heavier, so we added some electric guitars, and it was from the little we recorded; the rest is sampled. It is very much directed towards electronic music or pop."
South Korea's SUNMI gives fans an all-new original track, titled "Oh Sorry Ya." Created in collaboration with the Los Angeles-based songwriting duo, LYRE, the song kicks off with a swell of new-wave synths in a shadowy minor key before building to bubblegum pop perfection with a huge, infectious chorus that still has hints of darkness beneath. 
"It was a huge honor being part of Spotify's EQUAL project, and I really hope that fans and listeners worldwide enjoy, get inspired, by this track," said SUNMI. "Team LYRE and I have put a lot of thought into producing this multidimensional track together. It's truly 'created by women' and hopefully loved by everyone."
If you want to hear more from SUNMI, check out Spotify's Mic Check episode, where the K-Pop artist shares more about her new single and opens up to us about the family tragedy that brought her to the music industry. 
EQUAL Collective brings off-platform support
Last year, Spotify launched the EQUAL Collective, bringing together a group of nonprofit organizations from around the world that are focused on furthering gender equity in music. These 14 organizations were given an opportunity to collaborate together on new ideas to help reach more women creators and further their work.
This year, for International Women's Day, Spotify is excited to announce that we are awarding two teams, composed of four organizations, a grant of $50,000 in order to bring the following concepts to life:
Femme Africa

and

P_ssy Party

are helping solve for representation of women creators in Africa by developing a curriculum and online directory to connect creators within the industry.

MEWEM (France) and MIM (Spain) partnered together to develop the MEWEM Golden Ticket, a concept that will award eight women entrepreneurs from across Europe free access to international professional festivals to pitch their own projects and new ideas, develop their businesses, and meet future partners within a high-level network.
Year-round, Spotify aims to celebrate the incredible impact that women have on the world. This month, we are excited to bring front and center for listeners new music and new playlists from women.
Celebrate International Women's Day by listening to songs entirely written, produced, and performed by female songwriters on Spotify's Created by Women playlist below.